Perinatal Hepatitis B - HAN
Overview
Hepatitis B is a liver infection that is caused by the hepatitis virus (HBV) it is Transmitted when blood, semen, or other body fluid with the virus infects someone who does not have the virus.
People can become infected from birth (from infected mother to baby during birth), sexual contact with someone infected with HBV, sharing needles or syringes, or direct contact with blood/open sores. Without post-exposure prophylaxis with hepatitis B immune globulin (HBIG) and HepB vaccine, approximately 45% of infants born to HBV-infected mothers will become infected and 80 - 90% of those infected will develop chronic, life-long infection. Among infants who do develop infection, up to 25% will die prematurely of liver cirrhosis or cancer. Although, treatment of HBV infection is now possible and can attenuate the impact of infection, hepatitis B cannot yet be cured.
Prevention of perinatal hepatitis B infection requires prenatal identification and early reporting of HBV-infected mothers
[hepatitis B surface antigen (HBsAg) positive]
during each pregnancy.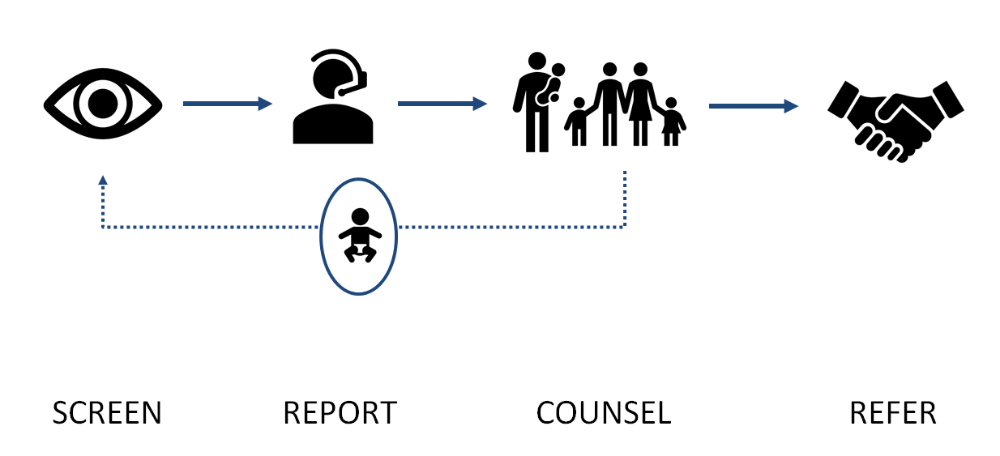 The Centers for Disease Control and Prevention (CDC) and the Advisory Committee on Immunization Practices (ACIP) recommend:
Universal testing of pregnant women for HBsAg,
Testing HBsAg-positive pregnant women for HBV DNA.
Post-exposure prophylaxis (PEP) within 12 hours of birth with HBIG and the first dose of HepB vaccine for infants born to HBV-infected mothers,
Universal HepB vaccination within 24 hours of birth for medically stable infants weighing ≥2,000 grams regardless of the mother's HBsAg status.
Completion of a valid three or four dose vaccine series in all infants, and
Post-vaccination serologic testing (PVST) for HBsAg and anti-HBs at 9-12 months for infants born to HBV-infected mothers or infants born in regions of high and intermediate HBV endemicity.
The Chicago Department of Public Health (CDPH)
Perinatal Hepatitis B Case Prevention Program (PHBPP)
helps promote these recommendations and provides case management of HBV-infected mothers and their infants.
ROLE OF CDPH:
Review of all HBsAg positive laboratory results in women of child-bearing age and determine pregnancy status.
Enroll HBsAg positive women and their infants in the PHBPP.
Collaborate with healthcare providers, delivery hospitals, laboratories, and families in Chicago to ensure identification of HBsAg positive mothers, treatment of infants at birth, timely completion of hepatitis B vaccination, timely and appropriate post-vaccination serologic testing, identification and referral of household contact, and appropriate education of patients.
Complete documentation of case management of mothers in INEDSS and mothers and infants in CDPH data base(s).
Provide follow-up education as needed to the healthcare partners on reporting and appropriate immunoprophylaxis, vaccination and testing.
Provide standardized culturally appropriate health education materials to reinforce the importance of preventing perinatal hepatitis transmission.
ROLE OF CLINICIANS:
Notify CDPH for all HBV+ mothers.
Select a test designated as "prenatal" or on a prenatal/obstetric panel when ordering an HBsAg screening test for a pregnant woman to help ensure confirmatory testing is performed on all positive HBsAg screens.
Inform selected laboratory of a woman's pregnancy status to ensure confirmatory testing is performed on all positive HBsAg screens.
Include any and all ICD 10 diagnosis codes indicating current or recent pregnancy when ordering HBsAg tests
Screening of Pregnant Women
Initial screening: All pregnant persons shall be tested for HBsAg (hepatitis B surface antigen) during an early prenatal visit, or when they present to a hospital for delivery if prenatal serologic results are not available.
Re-test pregnant persons who are at high risk for HBV infection (recent history of sexually transmitted disease, injection drug use, or other possible risks of HBV infection) upon admission to the hospital or birthing facility for delivery.
Persons known to have a chronic HBV infection should be tested again at each pregnancy regardless.
Screening Resources:
Hepatitis B Reporting
REPORTING GUIDELINES FOR LABS AND PROVIDERS
Lab Reporting
Laboratories are required to report positive results indicating HBV infection to local health departments/Chicago Department of Public Health (CDPH). Lab reports can be submitted through:
Electronic laboratory report to I-NEDSS (Preferred)
Faxing lab reports for hospitals/outpatient labs
Provider Reporting
Providers should report all HBV+ pregnant persons to CDPH for case management via I-NEDSS (preferred), via the Online Case Reporting Form, or by phone at 312-743-9000
APORS (Adverse Pregnancy Outcome Reporting System
Hospitals are required to report births to HBV+ Persons to APORS with 7 days of discharge
Hepatitis B PEP and Vaccination for Exposed Infants
All infants, regardless of the HBsAg status of the birthing parent, should receive a complete hepatitis B vaccine series. Primary vaccination generally consists of three intramuscular doses administered on a 0-, 1-, and 6-month schedule. However, the timing and number of doses is dependent on the HBsAg status of the birthing parent, birth weight of the infant, and if single-antigen or combination vaccines are used.
A detailed hepatitis B vaccination schedule, including guidance for the single-antigen vaccine, the combination vaccine, and for infants <2,000 grams can be found in the table below and the catch-up schedule
here
.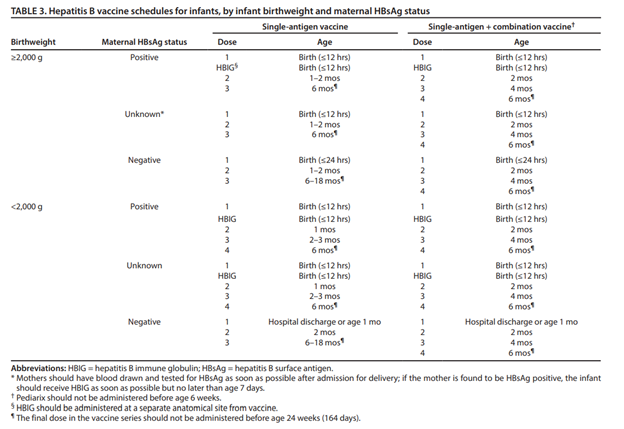 Vaccination Resources:
Procedures to Prevent Perinatal Hepatitis B Virus Transmission at Delivery (CDC)

Algorithms illustrating delivery hospital procedures to prevent perinatal HBV transmission (e.g. PEP, vaccine, and screening) when maternal HBsAg test results are available and unavailable.

Hepatitis B Immunization Materials for Patients and Staff (Immunization Action Coalition)

Education materials and resources for the Hepatitis B vaccine for both patients and healthcare providers. Includes handouts, FAQs, VISs in multiple languages, and standing order template.

Childhood and Adolescent Vaccination Schedule (CDC)

Routine and catch-up vaccination schedules for children 18 years and younger.
Serology Testing for Exposed Infants
Post-vaccination serology testing should be performed for all infants at 9-12 months of age, or 1-2 months after the final dose, if series delayed by testing for BOTH hepatitis B surface antigen (HBsAg) and antibodies to hepatitis B surface antigen (anti-HBs). Do NOT test for antibodies to hepatitis B core antigen (anti-HBc).
Post-Vaccination Serology Testing for Infants boarn to HBsAG+ Mothers
| Anti-HBs Result | HBsAG result | Follow-up Needed? |
| --- | --- | --- |
| Positive | Negative | None. Infant is protected |
| Negative | Negative | No response. Infant is susceptible to infection. Administer a single dose of HepB vaccine and repeat postvaccination serologic testing 1–2 months later. Infants whose anti-HBs remains <10 mIU/mL following single dose revaccination should receive two additional doses of HepB vaccine to complete the second series, followed by postvaccination serologic testing 1–2 months after the final dose. |
| Negative | Positive | Infant is infected with hepatitis B. Consult with liver specialist. |
Perinatal HBV Case Definition
CSTE Case Definition
PROBABLE CASE:
If a child born in the US and positive for HBsAg at ≥ 1 month of age and ≤ 24 months of age OR
If a child is positive for HBsAg or HBV DNA ≥9 months of age and ≤ 24 months of age, but whose mother's hepatitis B status is unknown (i.e. epidemiologic linkage not present).
CONFIRMED CASE:
If a child born in the US to a HBV-infected mother and positive for HBsAg at ≥ 1 month of age and ≤ 24 months of age OR
If a child is positive for HBeAg or HBV DNA ≥9 months of age and ≤ 24 months of age.
Hepatitis B Testing and Support
Patient Education Materials
HEPATITIS-B REPORTING
Preferred:
To Report Suspect Cases, Fill Out The VPD Case Report Form On REDCap: Https://Redcap.Link/ChicagoVPDReport
OR
Contact The CDPH Disease Reporting Hotline:
(312) 743 – 9000
*After hours, weekends, and holidays, call 311 and ask for the communicable disease physician on-call (or 312-744-5000 if outside the City of Chicago)
03/07/2023
You're Invited! Syndemics: Current and Future State – May 2, 8:30-4:00pm, Hosted by CDPH
View Alert
04/21/2023
Conference Registration is Closing Soon! Syndemics: Current and Future State – May 2, 8:30-4:00pm
View Alert
Hepatitis-B Screening and Support Services for Families at High Rish