MIS-C - HAN
Multisystem Inflammatory Syndrome in Children (MIS-C) Associated with
Coronavirus Disease 2019 (COVID-19)
Interim Guidance
PURPOSE
This document aims to ensure that clinicians are aware of current guidance regarding Multisystem Inflammatory Syndrome in Children (MIS-C) Associated with Coronavirus Disease 2019 (COVID-19), including the case definition and guidance on reporting to local health departments.
BACKGROUND
Clinicians in the United Kingdom, New York City and New York State have reported cases of children with multisystem inflammatory syndrome (many of whom tested positive for SARSCoV-2 infection by RT-PCR or serologic assay). Additional reports of children presenting with severe inflammatory syndrome with a laboratory-confirmed case of COVID-19 or an epidemiological link to a COVID-19 case have been reported by authorities in other countries.
On May 14, 2020, the Centers for Disease Control (CDC) issued a Health Advisory regarding a multisystem inflammatory syndrome in children (MIS-C) associated with coronavirus disease 2019 (COVID-19), along with a case definition for this syndrome.
There is limited information currently available regarding the risk factors, pathogenesis, clinical course, and treatment for MIS-C.
How to Report Suspect Cases of MIS-C
How to Report Suspect Cases of MIS-C
1. I-NEDSS entry: Enter suspect MIS-C cases into the COVID-19 I-NEDSS module – subsection "Multisystem Inflammatory Syndrome". There does not have to be a positive COVID test in order to enter into the module. It can be an epi link, COVID-like illness, or a positive molecular, antigen, or antibody test. If your lab or a commercial send out lab does not have the ability to run serologic testing, consider drawing serum and saving it prior to any treatments.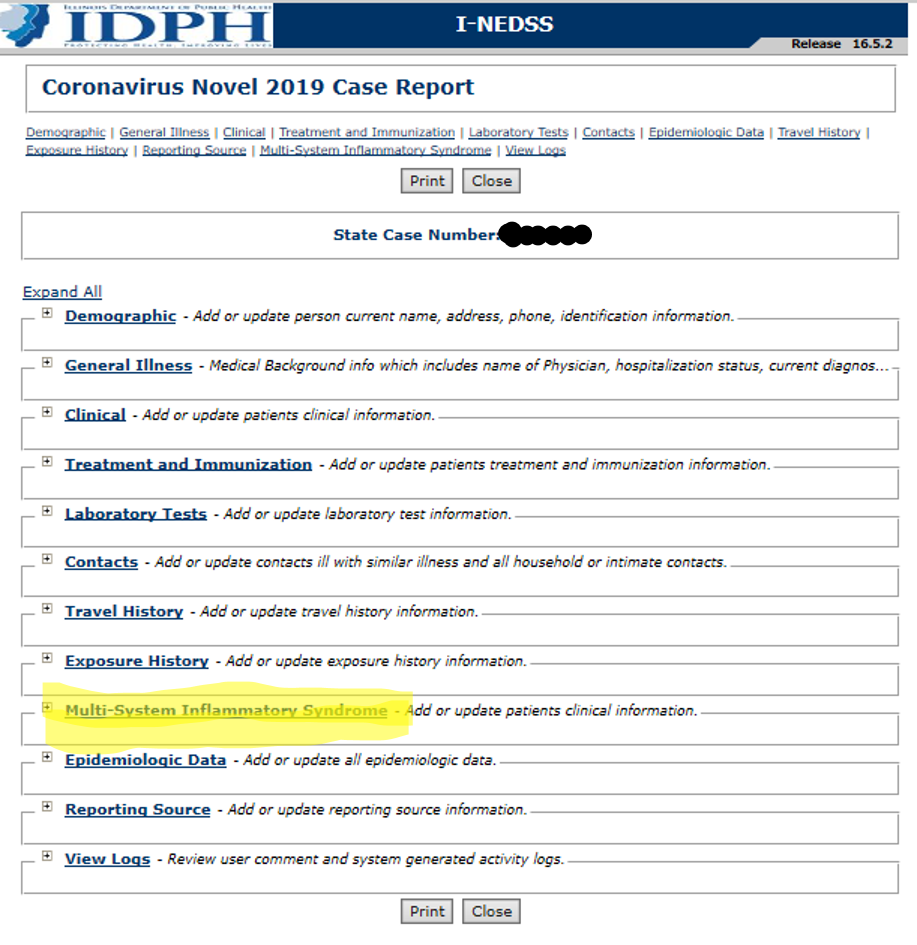 2. Case Report Form: Fill the case report form as completely as possible, scan and send by encrypted email to outbreak@cityofchicago.org. If you need support filling out the form, please email outbreak@cityofchicago.org and indicate a point of contact and direct phone number for our investigators to reach you to obtain appropriate medical records to submit the form to CDC.
CDC Case Definition for Multisystem Inflammatory Syndrome in Children (MIS-C)
An individual aged <21 years presenting with fever laboratory evidence of inflammation, and evidence of clinically severe illness requiring hospitalization, with multisystem (>2) organ involvement (cardiac, renal, respiratory, hematologic, gastrointestinal, dermatologic or neurological); AND


No alternative plausible diagnoses; AND


Positive for current or recent SARS-CoV-2 infection by RT-PCR, serology, or antigen test; or COVID-19 exposure within the 4 weeks prior to the onset of symptoms
Fever >38.0oC for >24 hours, or report of subjective fever lasting >24 hours
Including, but not limited to, one or more of the following: an elevated C-reactive protein (CRP), erythrocyte sedimentation rate (ESR), fibrinogen, procalcitonin, d-dimer, ferritin, lactic acid dehydrogenase (LDH), or interleukin 6 (IL-6), elevated neutrophils, reduced lymphocytes and low albumin
Additional comments
Some individuals may fulfill full or partial criteria for Kawasaki disease but should be reported if they meet the case definition for MIS-C
Consider MIS-C in any pediatric death with evidence of SARS-CoV-2 infection