Hepatitis A - HAN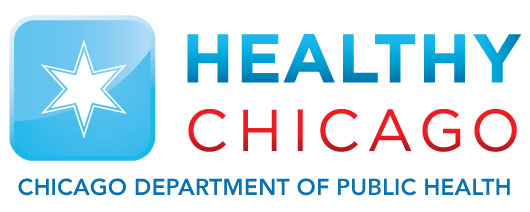 Hepatitis A
Background: More than half of states across the country have reported outbreaks of hepatitis A. Since first identified in 2016, more than 27,000 cases with over 60% hospitalizations and at least 270 deaths have been reported. Transmission of Hepatitis A occurs by fecal-oral route.
Chicago Department of Public Health (CDPH) managed a small cluster of cases in late 2017 and reported on an increase in activity among men who have sex with men (MSM) (see February 1, 2018 health alert) and continues to monitor reports of hepatitis A closely given the rapid growth of outbreaks across the country (updated case counts per CDC).
Symptoms: Symptoms include a viral prodrome of fatigue, malaise, fever, muscle aches, followed by nausea, vomiting, diarrhea (more common in children), abdominal pain and hepatitis (elevated serum aminotransferase levels) which can be associated with darkening of urine, pale-colored stools, and yellowing of the skin (jaundice) and/or eyes (scleral icterus).
The most common symptom in adults is jaundice (>70%). Transmission occurs by fecal-oral route. Liver failure and death are more likely to occur in persons over the age of 50 years and those with chronic liver disease.
Prevention: In order to protect Chicago's highest risk individuals, CDPH is asking all adult healthcare providers to vaccinate the following high risk groups:
Homelessness or transient housing

Men who have sex with men (MSM)

Persons who use drugs (injection or non-injection)

Persons with a history of incarceration

Persons with chronic liver disease

Persons living with HIV

Travelers

Persons with clotting-factor disorders

Persons who work with non-human primates

Persons who anticipate close personal contact with an international adoptee
Pre-vaccination serologic testing is not required to administer vaccine. Vaccination should not be postponed if patient history or records cannot be obtained or are unavailable.
Information for Providers
CDC Acute Hepatitis A Case Definition, 2019
Have a low threshold to report clinical suspicion for Hepatitis A in high-risk individuals.
If you are in the Emergency Department (ED) and have clinical suspicion for hepatitis A in a high-risk individual, use the Hepatitis A ED reporting form.
Given national outbreaks, vaccinate all high-risk patients for Hepatitis A now. Consider repeating non-reactive (NR) IgM results in one week for clinically consistent cases.
For clinical questions, please call the CDPH Provider Reportable Disease Hotline: 312-743-9000.
Chicago Hepatitis A Outbreak Updates
Chicago Hepatitis A Case Data
(September 2018 - December 2019)
| | |
| --- | --- |
| Outbreak-Related Cases | 54 |
| Hospitalizations | 41 (75.9%) |
| Deaths | 0 |
Last Updated: February 14, 2020
Reporting
Per the Control of the Communicable Disease Code of Illinois, Hepatitis A cases must be reported to CDPH within 24 hours.
Phone: 312-743-9000 / Fax: 312-746-6388
Online Case Report Form (preferred)
Outreach
If your organization would like to:
Receive Hepatitis A vaccine to administer to Chicago's high-risk populations, please email ChicagoVFC@cityofchicago.org or call 312-746-5382.
Distribute hygiene kits to homeless individuals, please contact Donovan Robinson at 312-746-6286.
Return Hepatitis A vaccine that is expiring soon or you do not plan to use, please email ChicagoVFC@cityofchicago.org.
Laboratory Testing
Please save all reactive Hepatitis A IgM specimens for 30 days. View CDC's Letter Re: Submission of Patient Specimens to CDC for Hepatitis A Testing (April 26, 2019) for further guidance.
Chicago Hepatitis A Task Force (CHART) Newsletter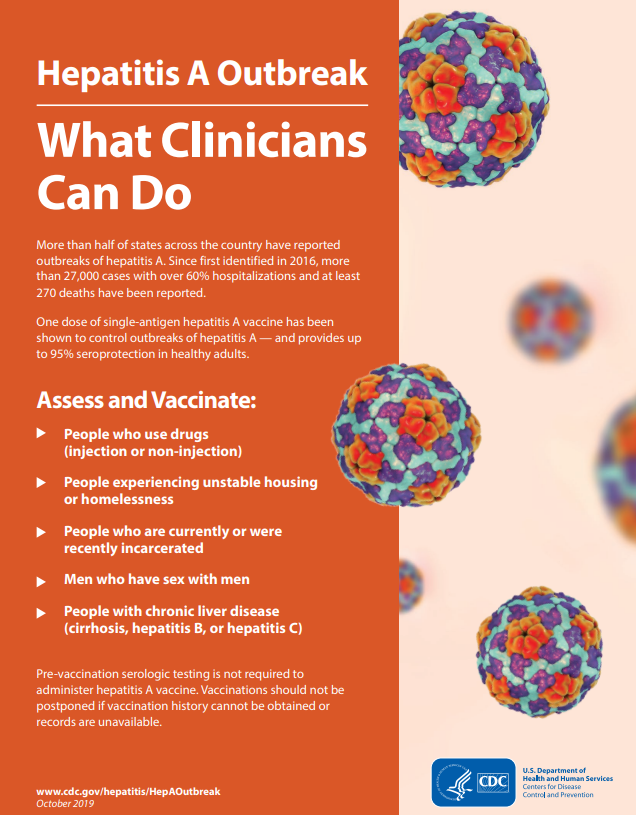 HepA Cases Across Illinois and the United States
CDPH Provider Disease Reporting Hotline
312-743-9000
Communicable Disease Hepatitis Surveillance
312-743-9000 (Phone), 312-746-6388 (Fax)